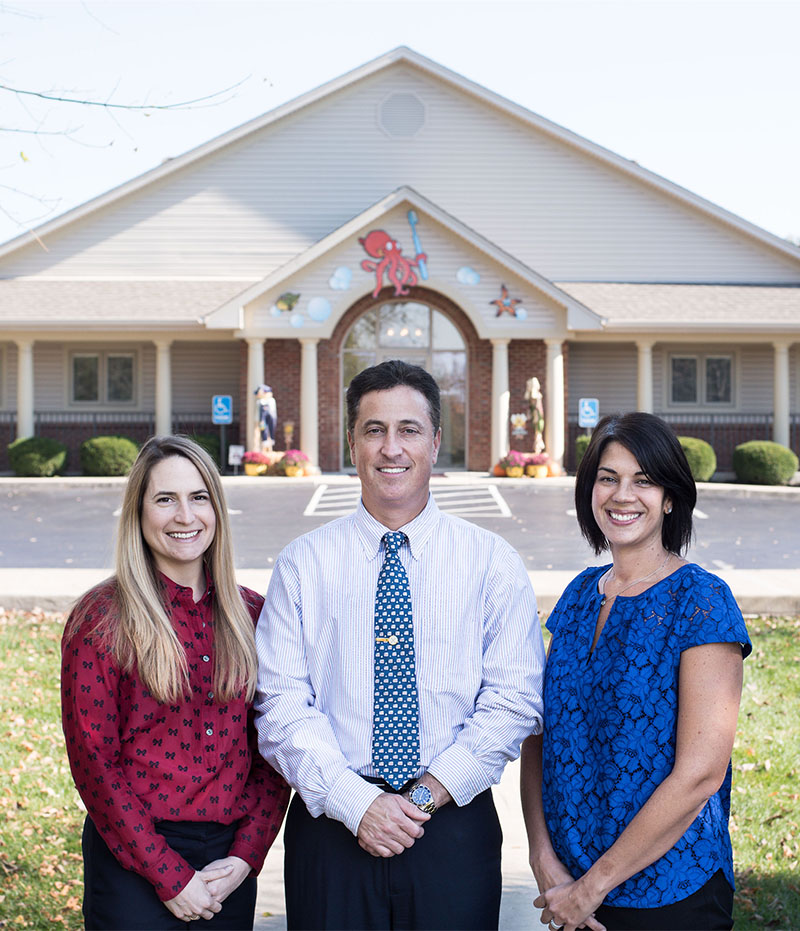 Dr. Sarah, Dr. John, and Dr. Katie
Sea of Smiles Pediatric Dentistry offers the highest level of pediatric dental care throughout the greater Cincinnati area to  infants, children, and teens.  Superior dental health is vital for a child's development, and we're here to  promote a strong foundation of oral health which will last a lifetime.
Our mission is to help our pediatric dental patients become independently healthy.  Our decisions are based on sound principles, respect, clear judgement and a sense of treating your child as if they were our own.  We pledge to non-judgmentally deliver the highest possible level of individualized pediatric dental care in a warm, nurturing environment.  We strive to pursue excellence through continuing education, team growth and a mastery of leading-edge technology.
We welcome you to our family.  We will do our best to ensure your child has fun at our office and walks away with the necessary knowledge and treatment to maintain a healthy smile. 

Google Reviews
WHAT THEY SAY

"I couldn't have imagined a better dental experience for my 2 year old! They were all so kind and very thorough. Everything was explained well before it happened. My son had a full cleaning and flouride treatment while holding a rubber frog they had given him and watching Sesame Street."
"I continue to be impressed with Sea of Smiles. We've seen several different dental hygienists and all of the dentists (Dr. Katie, Dr. John, & Dr. Sarah). Everyone is incredibly kind and patient. I have a 5, 4, and 2 year old. Two of my sons can be challenging patients (with sensory sensitivities and just being young and uncooperative) and everyone at Sea of Smiles has worked patiently and thoroughly with all of them. PLUS, my kids LOVE going! We pass the office sometimes and they beg me to take them in! We also enjoyed the free movie (+ snacks and prizes) they provided at the Mariemont theater recently. Such a top notch dentistry. I highly recommend them!!"
"Great dentist for a first time dental visit! My son started off the visit crying in the middle of the parking lot. The dental hygienist and dentist were very very patient with him and moved at his pace. They had lots of tricks up their sleeves to keep little kids distracted. By the end of the visit he was smiling and thanking them for helping him. Can't wait to bring his siblings in!"
"My son had his first appointment today. We were taken back right on time. We were offered to do a tour of the office. The staff was very friendly and did a great job with my son who had never been to the dentist before. We saw Dr. John who was amazing with my son. He answered my questions and didn't seem rushed. What a great experience! Thank you!"